Self-Care September: 
5 recipes to feed your soul
The Ultimate Self-Care Ritual is to feed your soul. These super wholesome recipes brought to you by friends at Nutra organics will nourish your mind, body and soul. Each one of these delicious recipes contain healthy ingredients that are loaded with important nutrients that will help promote good health and they look  sooo delish!
Life's all about balance, and these cookies are just the treat for when you're looking to sweeten up your day. A mix of vanilla and chocolate cookies are here to hit the spot when that sweet tooth comes a-calling.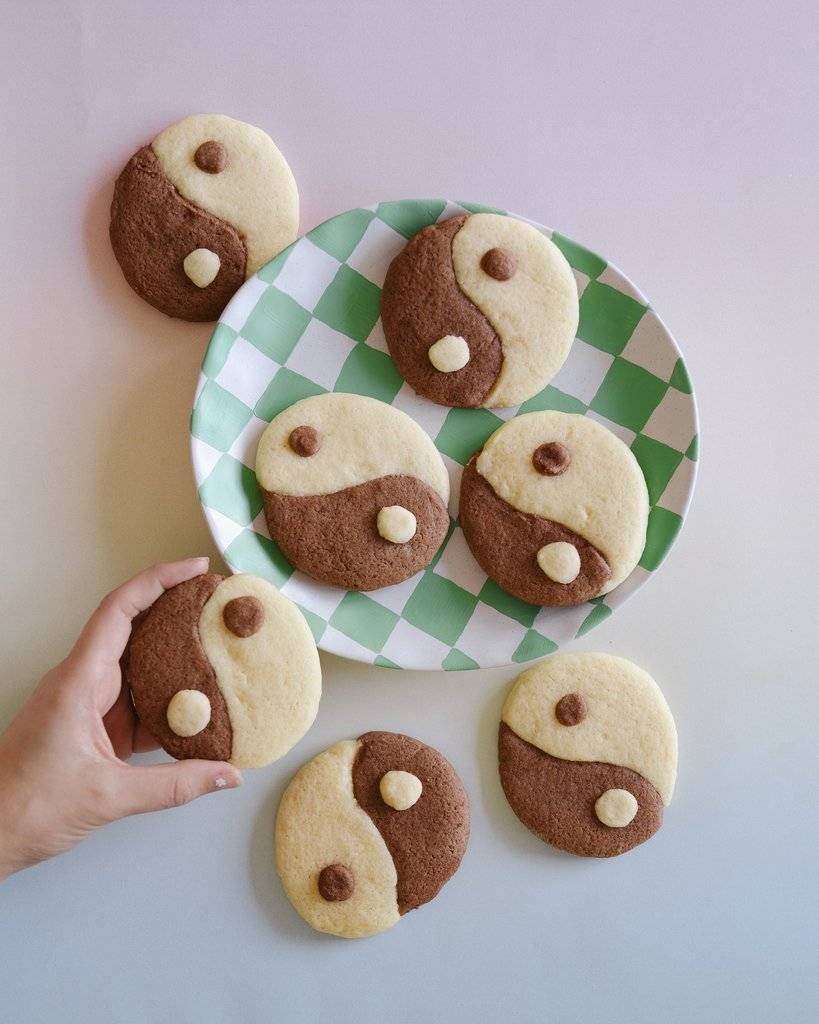 INGREDIENTS

2 eggs
2 1/2 cups almond meal
PRODUCTS
1/4 cup Lover's Latte
1/2 cup The Wholefood Pantry Coconut Oil (plus extra if cookie mixture is looking dry)
2 tbsp Thriving Protein Smooth Vanilla
METHOD
1. Combine all ingredients in a bowl except for Lover's Latte
2. Once combined, split your mixture in half, adding the Lover's Latte into one of the halves, stir to combine.
3. Roll out your mixtures between two bits of baking paper until approx 1 cm thick. Press in your yin yang cookie cutter, to make your smaller circles, roll up little balls of the offcuts. 
4. Assemble your cookies on a lined baking tray, and place in an oven that's been preheated to 160C, and bake for 10 minutes, it may need 12-15 so continue cooking times if they don't look ready yet.
5. Remove from oven and allow to cool for 10 minutes before taking them off your tray. 
This easy and delicious take on a veggie laksa is quickly becoming one of our favourite winter warmers. Packed full of fresh flavours and a range of nutrient providing vegetables. Don't be surprised if this one gets added to the weekly dinner rotation.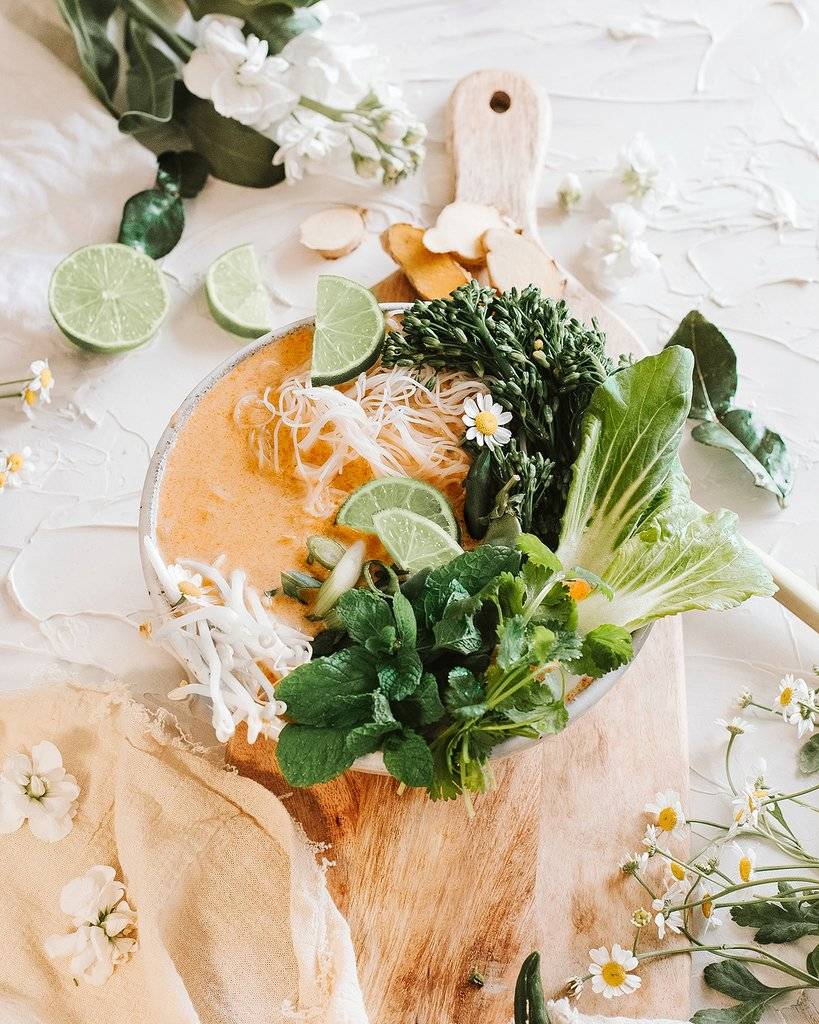 INGREDIENTS
1 Jar Organic Laksa Paste
1 large brown onion, chopped
1 can organic coconut cream

1 kaffir lime leaf, plus extra to serve

Vegetables of choice, we used:

Bokchoy

Sweet potato, cut small

Brocollini

Snow peas

Bean sprouts

4 serves of rice noodles, prepared as instructed

mint, to serve

coriander, to serve

Fresh chillies, to serve
METHOD
1. In a large saucepan over a medium high heat, melt 1 tbsp Coconut Oil, sauté Laksa paste, chopped onion and kaffir lime leaf until onion is soft and translucent.
2. Add your prepared vegetables and stir to coat in curry paste.
3. Add in coconut cream, broth powder and 500 ml water and bring to a boil before reducing to a medium heat until veggies are warm and cooked through.
4. To serve, spoon broth and veggie mixture into large bowls, add in prepared rice noodles and top with coriander, mint and chillies.  
With Spring upon us, and the weather starting to warm up, we've started to crave refreshing, sweet treats. Our Acai Nice Cream Bowl is perfect for satisfying your sweet tooth, and has all the flavour of your fave ice cream without the dairy. With just right balance of sweet and tangy from our Acai Berry Blend, topped with peanut butter and fresh berries, you can't go wrong.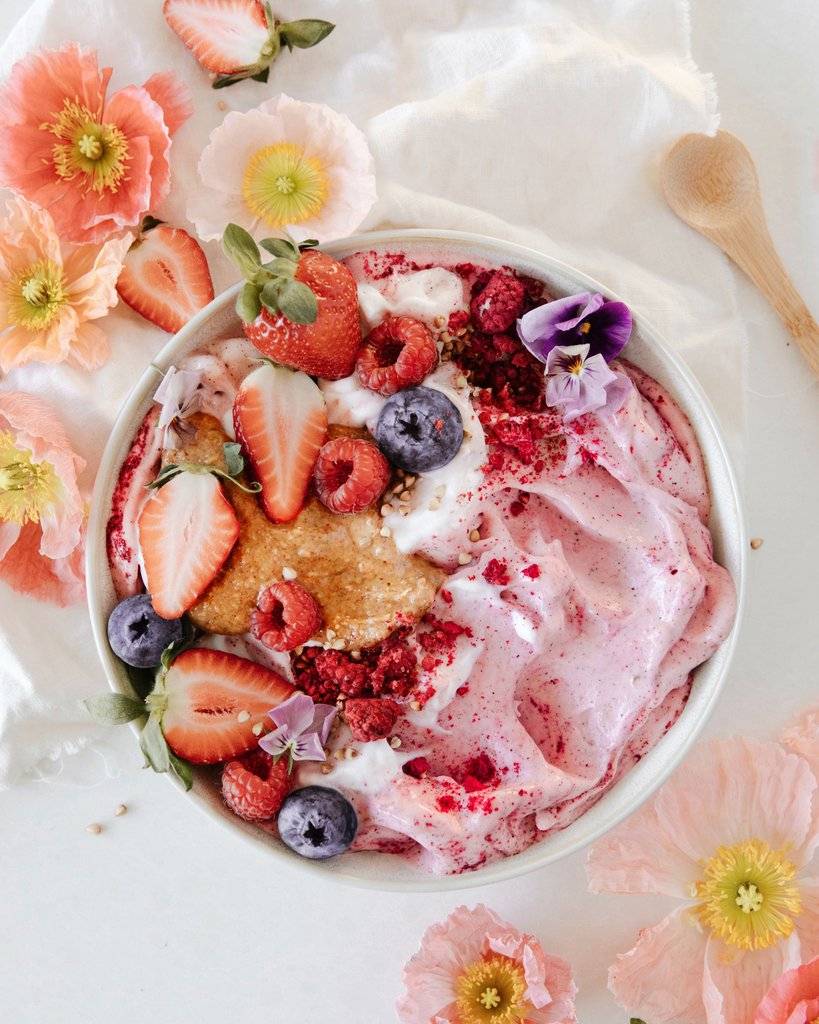 INGREDIENTS
2 frozen bananas
1/4 cup plant milk

1 tsp maple syrup (optional for sweetness)

½ tsp vanilla extract

½ cup coconut yoghurt

1 tbsp nut butter

A handful of berries (we used strawberries, raspberries & blueberries)

1 tbsp of toasted buckwheat

METHOD
1. Place banana, Acai Berry Blend, plant milk, maple syrup and vanilla in a blender. 
2. Blitz until smooth.
3. Pour mixture into a bowl, then top with remaining ingredients. And enjoy!
4. Banana Bread French Toast
Consider your Mother's Day breakfast plans sorted. Dreamy French Toast meets Sunday morning classic Banana Bread to create a breakfast guaranteed to bring a smile to your favourite mum's face. This may look super fancy, but we promise you won't be slaving over a hot stove for too long, meaning more time to spend with Mum (win-win)!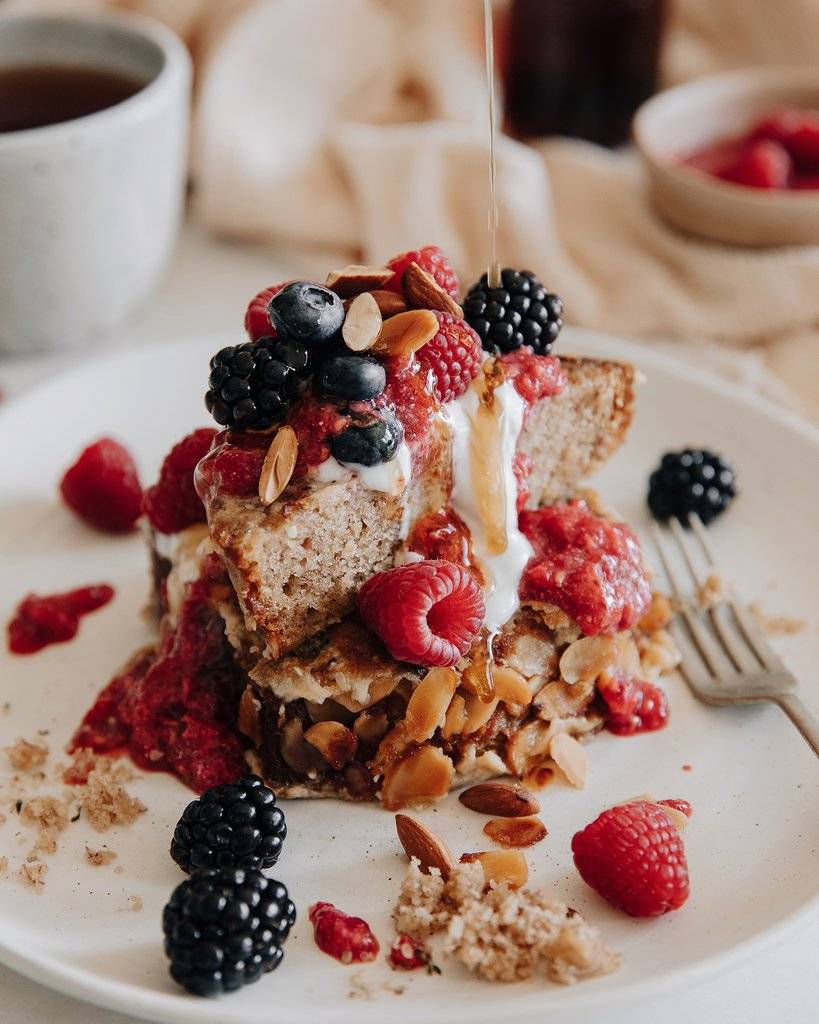 INGREDIENTS
3 eggs
125 ml Coconut Milk

1 tbsp butter

8 slices GF Banana Bread

Punnet of raspberries

Mixed berries, to serve

Sliced Almonds

METHOD
1. Make your raspberry chia jam.
2. Whizz chia seeds to powder then add to a ¼ cup of water, allowing the chia to become a gel. Mash a punnet of raspberries with a fork in a small bowl and add chia gel 1 tsp at a time and mash together until you have a jam consistency (note: you will have chia gel left over, put aside and use at a later time).

3. To make your banana bread french toast place eggs, coconut milk, maple syrup and vanilla protein in a medium bowl and whisk to combine.

4. Heat a large frying pan over a medium heat and melt butter.

5. Dip banana bread slices in egg mixture, sprinkle with hemp seeds and cook for 4 minutes each side or until golden. 

6. Divide toast between plates and drizzle with chia jam, top with toasted sliced almonds, extra maple syrup and fresh berries to serve. 

5. Loaded Sweet Potato Boats
It's time to set sail on the good ship Curried Lentil. You may not to be able to travel like you want to, but you can transport yourself with this flavour sensation. Soft and perfectly roasted sweet potatoes are topped with our go-to Curried Lentil Dahl, bringing a healthy alternative to your standard loaded potato. This recipe also makes extra dahl, so you've got tomorrow's dinner sorted too, it's the dinner that keeps on giving.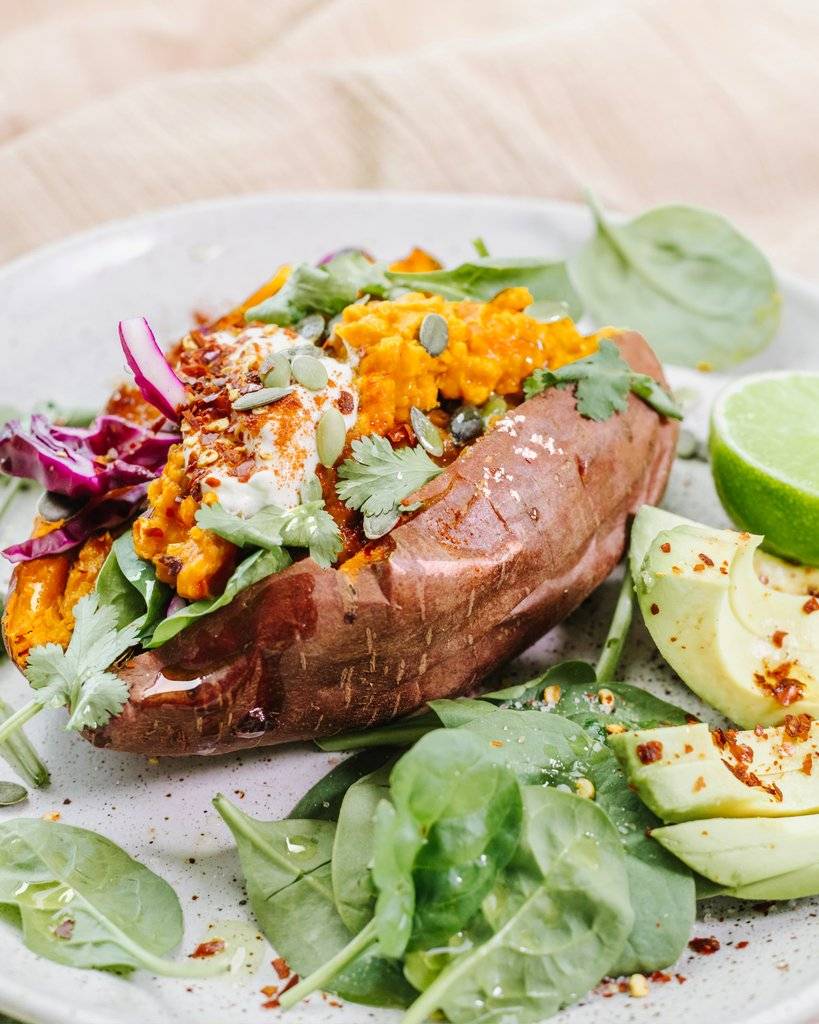 INGREDIENTS
1 medium onion, finely chopped
2 garlic cloves, crushed
1 piece of ginger (approx. 6 cm), peeled and grated
1 tbsp curry powder (adjust to taste)
1/4 tsp crushed red pepper flakes (adjust to taste)
3/4 cup red lentils
400 g can crushed tomatoes
3/4 cup coriander, finely chopped, reserve leaves and stems for serving
pepper
400 g can coconut milk
Lime wedges to serve
4 small sweet potatoes
1 avocado, halved and sliced
1 cup red cabbage, thinly sliced
1 cup baby spinach leaves
1 tsp smoked paprika
4 tbsp natural yogurt
Olive Oil, to drizzle
METHOD
1. Preheat oven to 170ºC. Roast sweet potatoes whole on a baking tray for 45 minutes to 1 hr, or until cooked through. To check, stick a fork in the sweet potato, it should be soft and have no resistance.
2. Heat coconut oil in a medium saucepan on a medium heat. Add onion, stirring often, and cook for 8-10 minutes, until softened and golden brown.
3. Add garlic, ginger, curry powder, and red pepper flakes and cook for about 2 minutes, until fragrant. Add your lentils and cook, stirring, for 1 minute.
4. Add your tomatoes, coriander, and vegetable broth powder to saucepan along with 2 1/2 cups water, and a generous pinch of salt and pepper. 
5. Add 3/4 of coconut milk to saucepan and stir through.
6. Bring mixture to a boil before reducing the heat and allow to simmer gently for 20-25 minutes, stirring occasionally. Your lentils should be soft, but not mushy. Taste and season with more salt and pepper if needed.
7. To serve, cut a slit in the sweet potatoes and open up with a fork. Layer in spinach and red cabbage. Top with Lentil Dahl, 1 tbsp natural yoghurt, a pinch of smoked paprika, chilli flakes, pepitas and coriander leaves.
8. Serve with extra baby spinach, 1/2 an avocado and lime, then give it a little drizzle with olive oil.
Serves 4
For more amazing drool- worthy  recipes from Nutra Organics click here